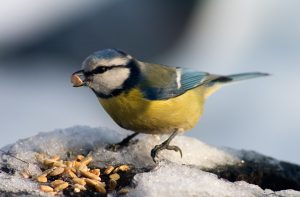 There's nothing like the taste of your own home-grown fruit and vegetables. Or perhaps you're a vineyard-owner, cultivating all those wonderful grapes for your much-loved wine!
The problem many growers run into, though, is that birds often eat a lot of the unpicked fruit before humans get a chance to harvest it. Sometimes, they can almost clear a whole crop!
Until recently, bird netting was one of the few options available to protect certain plants like grapes and cherries. But there are some concerns over this method. Keep reading for 5 problems with using netting to protect your produce.
1. High Cost
At around $6.50 per square foot, netting is a very costly choice. That small figure might not sound like very much, but when you consider the amount you'd need to cover the average fruit tree, the costs start adding up.
A medium-wide-boughed, 10ft fruit tree would need at least a 38ft x 38ft section of netting, and the cost suddenly shoots up to almost $250. Now multiply that by several trees, and the figure's pretty eye-watering.
2. Often Not Reusable
Bird netting is often sold as being reusable, so you should be able to cover your trees effectively, each season.
However, depending on the quality of your netting, the fabric can become dry and brittle. This can cause it to break, or be difficult to re-drape.
3. Can Damage Plants
The small holes in the netting are what keeps the birds out. Unfortunately, though, it can also damage the very plants it's used to protect.
Bird netting will often sever leaves and break off fruit when there's a heavy wind. This can impact on your harvest and, if you're a commercial grower, it can affect your profits, too.
4. Can Trap and Injure Birds
Sadly, poorly-installed netting allows birds to enter it, and then traps them inside.
Smaller birds, like tiny sparrows and baby birds, can get tangled up in the mesh itself, causing damage to their beaks and other extremities.
Birds can also get their legs and feet entangled, so they're trapped and unable to safely fly away.
5. Can Put You at Risk
It's not just birds that get caught up in netting. In fact, many owners have reported finding snakes and other wildlife within their mesh-covered plants.
Of course, the danger to cultivators is great, and freeing a frightened trapped snake is a risky endeavor.
Rabbits, lizards, and squirrels, for example, have been found both dead and alive. And dead animals attract other pests, who can also become trapped inside.
The Verdict on Bird Netting
Protecting your crops from those pesky birds can be hard work. A lot of people have been forced to use bird netting as a deterrent, simply because there haven't been many alternatives.
Unfortunately, this common material has a few major failings. You should definitely factor these into your decision when it comes to caring for your plants.
But did you know there's a cheaper, safer and highly effective solution that can work for you? Click here to learn how the Falcon FrightKite can help you.